Runners up in the Stand Up Week Poster Competition
15 November 2019
POSTER COMPETITION A very well done to all students who entered the poster competition for Stand Up week. Thank you also to all who designed posters and slogans. You adorned our walls with creativity, colour and inspiration. The joint winners of the poster competition are: Pippa Kirwan Bolger 1L Sophia Zavalko 3L. Runners up are: Marlowe North Isabelle Martin/Rachel Jones Max Hendrickson Please see Ms Prizeman in 02 after roll call for your prizes
Joint Winners of Stand Up Week Poster Competition
15 November 2019
POSTER COMPETITION A very well done to all students who entered the poster competition for Stand Up week. Thank you also to all who designed posters and slogans. You adorned our walls with creativity, colour and inspiration. The joint winners of the poster competition are: Pippa Kirwan Bolger 1L Sophia Zavalko 3L. Runners up are: Marlowe North Isabelle Martin/Rachel Jones Max Hendrickson Please see Ms Prizeman in 02 after roll call for your prizes
Stand Up Week 2019 Posters
15 November 2019
Posters designed by MT pupils for Stand Up Week 2019.
Stand Up Week 2019 (Friday)
8 November 2019
On 14 June 2017, Leo Varadkar became Ireland's first openly gay Taoiseach. Varadkar first spoke publicly about being gay during an interview with Miriam O'Callaghan on RTÉ Radio One, while he was still Minister for Health. "It's not something that defines me, I'm not a half-Indian politician or a doctor politician, I'm not a gay politician for that matter, it's just part of who I am," he told O"Callaghan. HUGE thanks to everyone who made the effort to dress up to support STAND UP WEEK yesterday!!!!! And to all those who partook in any of our events/ activities. https://b2cef16892da7f59cb8b-0704d2c65d24f26cc4687c42a45cd41e.ssl.cf3.rackcdn.com/pdf/1885_20191108160325.pdf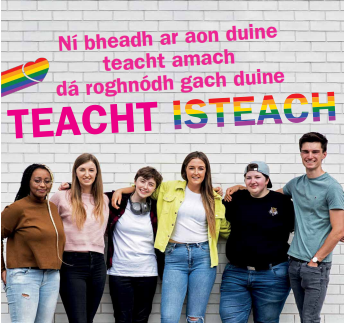 Junior Rugby Team beat Gormanstown
14 November 2019
Congratulations to rugby Junior team who had an impressive win over Gormanstown today in the first leg of Junior Cup beating their opponents 48-0. Photos available on the photography website of Max Fulham via link below: https://fulhamphotos.weebly.com/jct-vs-gormanstown-park.html
ISTA Senior Science Quiz
14 November 2019
On the evening of Thursday, 14th November, nine Mount Temple students took part in the regional finals of the ISTA Senior Science Quiz in Trinity College Dublin. The students that competed were Gareth Hogan, Ewan McGrane, Lucy Ryan, Finn O'Reilly, Caitlin Mitchell, Adam Daly, Eva Kenny, Emmanuel Essien-Thompson and Zak Aboukrhes. Great fun was had by all. Emmanuel Essien-Thompson, Finn O'Reilly and Lucy Ryan all won a spot prize each too!
Irish Open Badminton Championships
14 November 2019
On Thursday 14th November Mount Temple travelled to the National Indoor Arena to be part of day 2 of the Irish Open Badminton Championships, an important step in qualification for Tokyo and the Olympics next year. Sam Magee and Sara Boyle took time out to have some pictures taken.