AILO (All Ireland Linguistic Olympiad).
13 February 2020
Congratulations to Henry Williams and David Butterfield , and their teacher, Ms Kuruc, who qualified for the Ailo (All Ireland Linguistic Olympiad). National Final to be held at DCU. This is the first year Mount Temple has sent two delegates. Well done also to Ella Cormack who did very well in the competition. 1,036 students from all over Ireland took part in the Preliminary Round, so we are very proud to have two students in the final.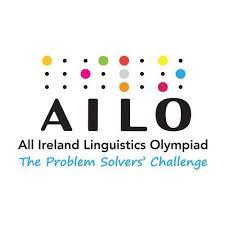 Leinster Schools Cross Country Championships News (by Mr. Steele)
14 February 2020
Three students travelled to Santry to take part in the Leinster Schools Cross Country Championships. Edward Joyce - 12th - this means that Edward will be representing Leinster Schools at this year's All Ireland Cross Country Championships on Saturday 7th of march again at Santry. A great performance by someone who isn't even in an athletics club! Clodagh Nic Dhomhnail - 23rd - a great run in a race that had 4th years in it, with the vast majority in 3rd year. Also based on her result from the North Leinster XC Champs, Clodagh should have finished around 50th so a great result for her. Christopher McLoughlin - 60th - a long race of 4.5km and after five other races before it the course was very muddy and turned over. Christopher was running in a race with many athletes who were older than him, and ran to form. Thanks to Max Fulham for the photos, more can be seen on his photography website: maxfulhamphotography.com
Congratulations to Under 14a Boys Badminton team!
14 February 2020
On Thursday the Under 14a Boys Badminton team travelled to Terenure Badminton Centre to take part in their Dublin Schools Badminton league semi final. Sonny Conboy, Evan Caswell, Oisin Doyle and Kevin Jerry produced an excellent and sensible result against Newbridge College, winning the match on points after a 3-3 draw. Another great performance as Newbridge had won all their previous games 6-0 and 5-1. They now go onto the final back at Terenure Badminton Centre, the Thursday after mid term with a guaranteed medal in the bag.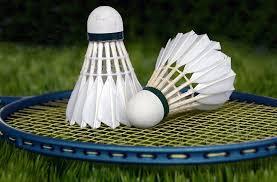 Cycle Safely
12 February 2020
Many pupils cycle to school regularly. There are health and environmental benefits to be derived from this. Ms. Leavy and some Mount Temple pupils have been involved in surveying the cycling habits of the students and working to promote greater awareness of cycle safety. Information and videos are available on the Cycle Right website including this short one on why wearing a helmet is important. https://vimeo.com/288768008
Parents/Guardians of First & Second Years
6 February 2020
Dear Parents/Guardians classes will finish at 1.05 on Monday the 10th of February for 1st & 2nd years due to a staff meeting. Also classes will finish at 12.15 on Wednesday the 12th of February due to our induction day for incoming first years.
Calling all Parents In Business
6 February 2020
We are sending our Little Shop of Horrors Souvenir Programme to print. If you or your company would like to take this opportunity to advertise your goods or services, please contact Ms Curran at aoife.curran@mounttemple.ie. Please be advised, as per the Irish Charitable Donation Scheme: 'If a company donates €250 or more in a year, the company can claim a tax deduction as if the donation was a trading expense'. As the school is registered as a charity (no. 4752554C) you should be able to avail of this deduction.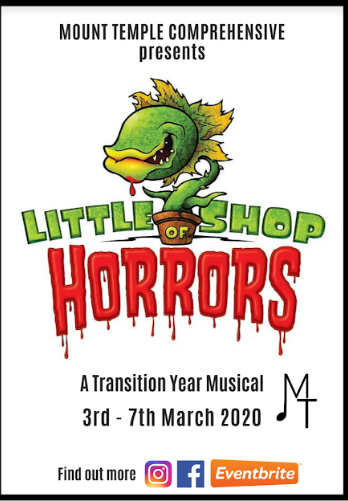 Every School Day Counts!
3 February 2020
Congratulations to 1D as the form with the best attendance last month (97%)! Congratulations also to the 444 pupils who had 100% attendance last month!
Mock Election Results (Dublin Bay North).
31 January 2020
A mock election with the candidates for Dublin Bay North (the constituency where the school is located) was organised by Ms. Nic Ruairi's TY class). The results were as follows: Electorate : 576 Spoiled votes: 28 Quota 97 Elected on the first count: David Healy Green Party 185 first preferences Elected after the 8th count: Denise Mitchell Sinn Féin (101 votes) Elected without reaching the quota as we had eliminated everyone else (in order of votes) after the 10th count Richard Bruton Fine Gael (85 votes) Aodhán Ó Riordain Labour (73 votes) Bernard Mulvaney (57 votes) A huge number of people voted only for one or two candidates, thus making it difficult for anyone to reach the quota. There were votes in the 20-30s for every candidate on the ballot except Sean O'Leary who got no votes at all.